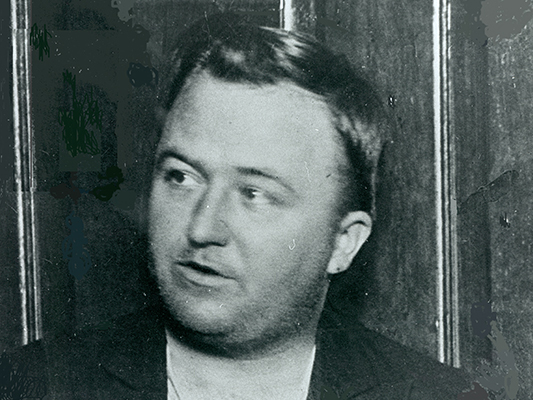 ---
He was the leader of Chicago's infamous North Side Gang and a rival of Johnny Torrio and his underling Al Capone. He was also an avid florist with a beautiful Irish Tenor voice. These polar opposites made up one fierce gangster named Dean O'Banion. His death would spark a bloody gang battle that would culminate in the St. Valentine's Day Massacre.
---
Charles Dean O'Banion was born on July 8, 1892, in Maroa, Illinois, to Irish Catholic parents. After his mother died in 1901, his father moved him and his siblings to the Irish suburb of Kilgubbin. The area was notorious for crime and violence.
As a youngster, O'Banion sang in the Holy Name Cathedral, but later on, he would use his talents as a singing waiter at the McGovern's Liberty Inn. While the audience was distracted by his music, his buddies would raid the coatroom and pickpocket the patrons. Sometimes the thieves would take it a step further and spike the drinks of some visitors. When the incapacitated person left the establishment, they would be jumped outside and robbed.
O'Banion and his group of friends became "sluggers" for the Chicago Tribune and then later the Chicago Examiner. Sluggers were hired thugs who worked for the newspaper. If anyone refused to sell the paper or gave them grief, the newspaper's owners would send out the sluggers to give them a beat down.
Prohibition:
O'Banion started his own bootlegging business and arranged shipments from Canadian suppliers. He also staged robberies against his rival bootleggers. At the height of his bootlegging operations, reports claim he was making a million dollars a year on the illegal liquor.
1921:
O'Banion marries Viola Kaniff and also buys an interest in a local flower shop. He was a skilled florist and had a passion for flowers. It wasn't long before his shop was the "Go -to" florist for mob funerals. Needless to say, he had plenty of business.
The shop sat across the road from his beloved Holy Name Cathedral, where he regularly attended mass with some of his gang members. The upstairs area of his shop was the headquarters of the North Side Gang.
Dividing Chicago & Deanie's Downfall:
O'Banion and the North Side Gang were raking in the dough, but they were always at odds with the Italian based South Side Gang and Johnny Torrio. Torrio was Capone's mentor at the time. Finally, Torrio works out a deal with his northern criminal counterparts and divides Chicago into territories to maintain peace between the rival factions. It would last for three years.
Soon, a third gang from the west side began to push their way into the deal. They were smart enough to align themselves with the Italians down south, but not smart enough to stay out of O'Banion territory. Their persistent efforts would eventually lead to a bloody war.
When Torrio refused to take care of the Westside gang, O'Banion took care of it himself and eventually signed his own death warrant by double-crossing Torrio himself.
November 3, 1924:
A local mobster had was killed, and a group of three men visited the flower shop on a couple of different occasions under the pretense of ordering flowers. Instead, they were studying the layout of the shop.
On the fateful day, Frankie Yale, John Scalise, and Albert Anselmi walked into the shop. Yale shook the florist's hand, and before he could finish arranging the flowers before him, O'Banion was shot dead. The florist's life has been immortalized in several mob movies over the years.
---
THIS LIST OF LINKS IS NOT AN ALL-ENCOMPASSING SOURCE CITING. ALL OF THE INFORMATION USED IN THIS ARTICLE CAN BE EASILY FOUND ONLINE. LINKS BELOW WERE USED AS SOURCES AND ARE RECOMMENDED READING FOR SYNOVA'S READERS. SYNOVA STRIVES TO CITE ALL THE SOURCES USED DURING HER CASE STUDY, BUT OCCASIONALLY A SOURCE MAY BE MISSED BY MISTAKE. IT IS NOT INTENTIONAL, AND NO COPYRIGHT INFRINGEMENT IS INTENDED.

---
Further Reading:
---
Recommended Reading:
For more information on Dean O'Banion check out Rose Keefe's book Guns & Roses by following the link below.
---
Support Synova's Cause:
EACH WEEK SYNOVA HIGHLIGHTS OBSCURE COLD CASES ON HER BLOG AS A VICTIMS' ADVOCATE WITH MISSOURI MISSING ORGANIZATION. SHE NEVER CHARGES FOR HER SERVICES. IF YOU'D LIKE TO SUPPORT HER IN THIS WORTHY CAUSE, PLEASE CHECK OUT THE AFFILIATE LINKS ON THIS PAGE. BY PURCHASING ONE OF HER BOOKS, OR USING THESE LINKS YOU WILL BE SUPPORTING SYNOVA'S WORK ON COLD CASES AND WILL ENSURE HER ABILITY TO CONTINUE TO GIVE A VOICE TO THE VICTIM'S FAMILY.
---
If you enjoy this content don't forget to sign up for Synova's Weekly True Crime Newsletter. You will receive exclusive content directly in your inbox. As a gift for joining you will also receive the Grim Justice ebook free.
---
If you'd like to check out Synova's true crime books follow this link to her Amazon Author Page.
---
---
ALL INFORMATION USED TO CREATE THIS CONTENT IS A MATTER OF PUBLIC RECORD AND CAN BE EASILY FOUND ONLINE OR CAN BE VERIFIED BY THE GUEST BLOGGER. ANY PARTICIPATION OR ALLEGED INVOLVEMENT OF ANY PARTY MENTIONED WITHIN THIS SITE IS PURELY SPECULATION. AS THE LAW STATES, AN INDIVIDUAL IS INNOCENT UNTIL PROVEN GUILTY. I DO NOT OWN THE PHOTOS USED IN THIS POST. ALL PHOTOS ARE USED UNDER THE FAIR USE ACT. NO COPYRIGHT INFRINGEMENT INTENDED. ANY AND ALL OPINIONS ARE THAT OF THE GUEST BLOGGER AND DON'T NECESSARILY REFLECT THE VIEWS OF SYNOVA INK©2017-2019. ALL RIGHTS RESERVED.
---